Fat, Lazy and Fading Fast, that's Sam Allardyce's view, the Bolton manager. He thinks government action is needed, to step in to stop the decline in British sport.
I'll give a different view of how to solve it. Parents!! The big difference between British and Australian sport, is that parents in Australia take their kids to play sport, and stay there to watch and encourage. It's ingrained into the parent culture here to spend most of your school life driving kids to play sport, and watching them play sport.
In every field/park on every corner, there's a cricket net. I can take the kids along to the permanent wire net and practice with them. No elitism, first come first served. I don't remember that in the UK. I don't remember any parents being present when I played sport at school in the UK. Maybe it's changed. I doubt it. Or I'll bet that most children don't have parents who take them to play sport and then stay, so it could be there are more parents now watching in the UK, because they're the only ones who encourage it.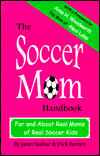 In USA on my first visit in '92, I was struck by how there was a basketball court on every corner, with kids playing and playing. Sporting excellence amongst peer groups.
So it's grass root parent thing, not a government elite coaching thing. Where do you think the term Soccer Moms comes from? Is there such a thing as Football Mums? That's the key.