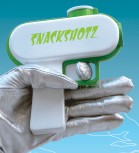 Pellet gun fires dog treats for fat pups to chase.
Now wait a minute, surely you have to work out the calorific value of the snack versus the amount of calories burnt by the doggie chasing the snack!
Otherwise you'll end up with a redundant gun and a fat bitch!!